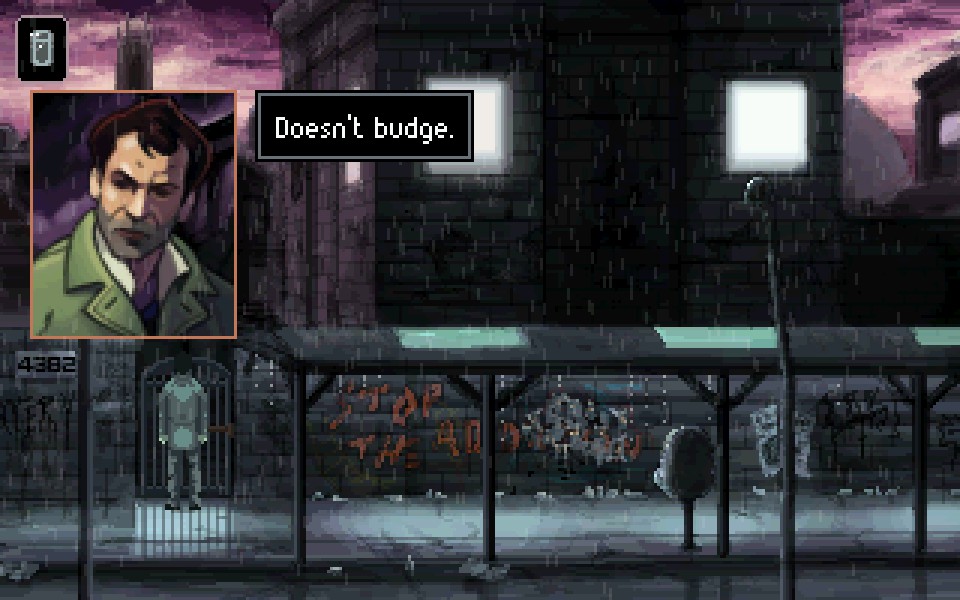 Set in a universe reminding me of Blade Runner, Gemini Rue delivers an incredible story while using the least amount of pixels possible!
I've had this game for a long time without finishing it. Perhaps I got it from a Steam indie pack sale. At the time of purchase, the game seemed uninteresting and tough to navigate. I gave it another chance a couple of days ago – and I loved it!
In 320x200, you're going to see some beautiful pixel-craftmanship in work. And don't worry, the game engine can scale this base resolution up for you, giving you more pixels if you choose. I'd say the "poor" graphics are to be seen as a feature, because it contributes to the overall feel and story. It's very well done.
As for gameplay – prepare yourself for a great puzzle game. The game has two perspectives, where one is you being a cop looking for your brother. The detective-style works well in a puzzle game. It all comes together into a great game with excellent story and storytelling.
Some puzzles are fairly easy while others are very challenging. There's a couple of walkthroughs on the internet in case you get stuck (and become frustrated). Overall the puzzles are well designed, and I don't think I ever had to run across the map to fetch something I missed or such. But prepare for some pixel-hunting. Probably the only downside with the game (and graphics).
Controls are simple. Left click to move, right click to open inventory or perform actions. Double click to perform your last action on whatever you clicked on. Actions are eye (look at, elaborate), hand (do, use, take), mouth (speak) and foot (kick, stand). It takes a while getting used to if you've never played this type of game before, though.
Gemini Rue gave me about 5-8h of playtime. As for rating, this game is getting 5/5! I loved the story and how it was told, in combinations with the puzzles.